Winner of the book of the year in Denmark.
taken from macmillan.com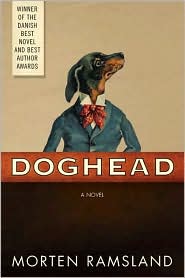 Doghead
is a highly imaginative, exuberant saga that follows three generations of a wildly dysfunctional Norwegian family. When Asger, the narrator, visits his dying grandma, he learns that contrary to popular belief, Grandpa was not a war hero. Instead, his nickname was "Crackpot," and both before and after he escaped from a Nazi concentration camp, he was, to put it bluntly, a cheat and a liar. From there the
real
family history unfolds, and like all great stories, it is a tale that will stay with the reader forever.