source: Words Without Borders
Reviewed by Mythili G. Rao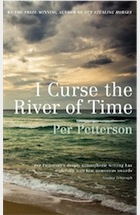 "He's thirty-seven years old, but I wouldn't call him a grown up. That would be an exaggeration. He's getting a divorce. I don't know what to do with him." These words, spoken by protagonist Arvid Janson's weary mother in the final pages of Per Petterson's latest novel,
I Curse the River of Time
are an apt assessment. Newly diagnosed with stomach cancer, Arvid's mother has left Norway for her hometown in Denmark, and Arvid, burdened with a host of ailments of his own, has followed her, his intentions unclear even to himself. Arvid wants to console and support his mother, ("Damn it, I knew she was ill, she might even die; that was why I was here, that was why I had come after her, I was sure of it,") but not only is there an old, open wound of misunderstanding between mother and son to contend with, there is also the creaking failure of Arvid's fifteen-year marriage weighing on him, as well as the final collapse of his political ideals to reconcile with:
"'It's me,' I said.
'I know who it is,' she said. I heard your thoughts clatter all the way down from the road. Are you broke?'"
"Are you broke?" is the question Arvid's mother used to playfully ask her son while he was still a carefree, penniless college student—before he dropped out of school to put his faith in Communism to test, trading an education for a production-line job at the factory where his father had labored for a lifetime, and leaving his mother (a factory worker herself) incensed. Arvid settled easily into the physical rhythms of the job and was convinced that the act of work was inherently important, but it did not take long for him to see that he had "joined the proletariat which did not actually exist anymore, but was an anachronism." In breaking with the promise of his old life, he had become "a man out of time."
Petterson has written about Arvid Jansen before.
In the Wake
finds its protagonist grappling with the horrific death of his parents and younger brothers in a ferry accident just like the one that took the lives of Petterson's own parents and two of his three brothers two decades ago. The Arvid Jansen of
I Curse the River of Time
may still have two living parents and more than one living brother, but his story is still an unflinchingly dark one.
read more....